Civil Rights of Immigrants
Scott County Community ID
Members of Quad Cities Interfaith identified the need for a Scott County Community ID. This ID would serve all residents of Scott County to access some of the most basic social and economic aspects of life. Our leaders have been working diligently in spreading the word about the benefits of a Community ID. We have gathered signatures from directly impacted people, businesses, organizations, and faith groups all who see the good implementing a Scott County Community ID would do. Between digital and physical signatures, we have gathered the support of over 100 individual and institutional supporters. You can join us by signing on as a supporter ready to take action by signing HERE or reach out to us to get more involved in the fight for justice.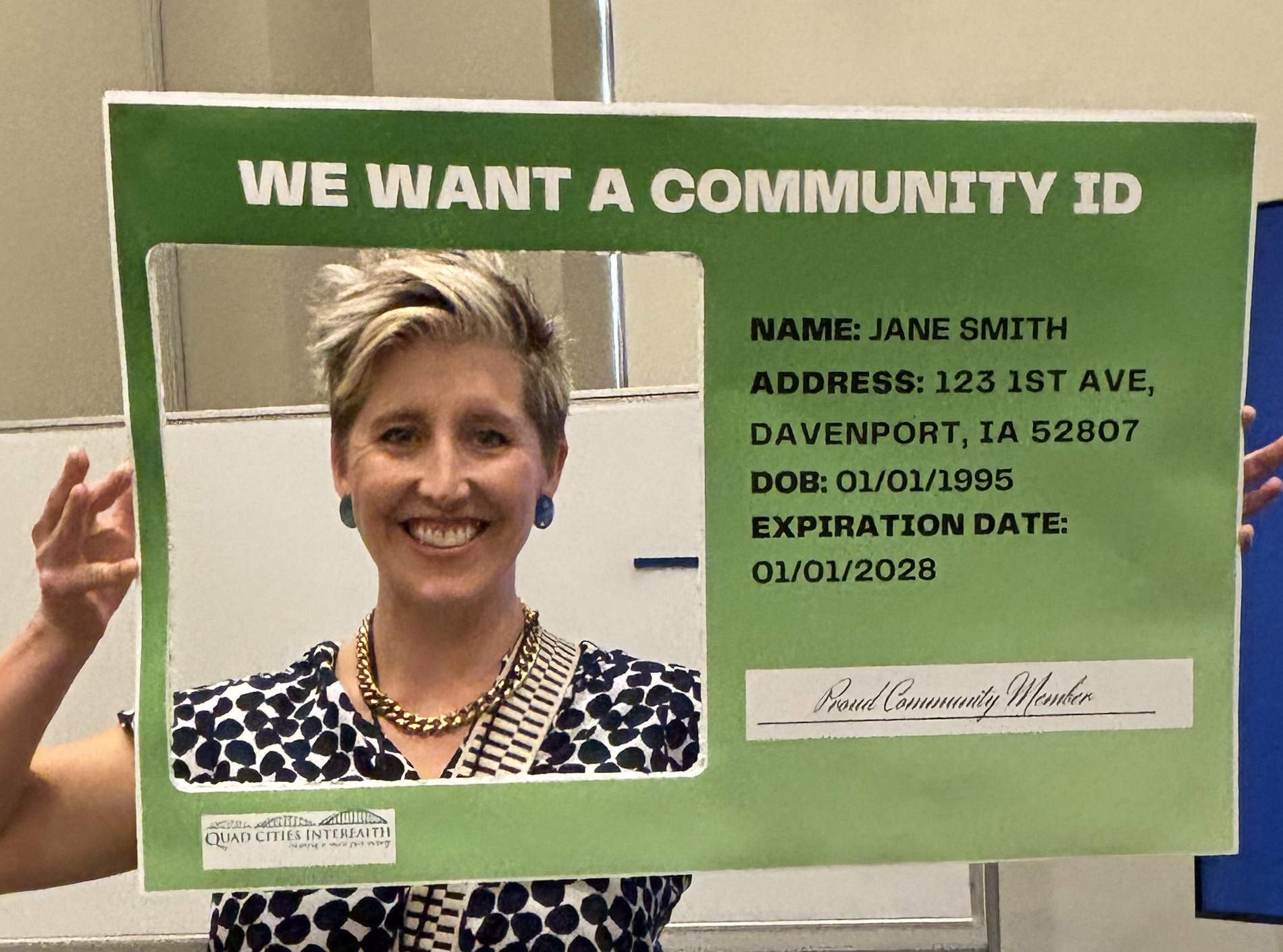 Pass a Scott County IA Community ID Now
As signers in support of the Scott County Community ID, we believe its implementation would benefit all residents, businesses, organizations and government entities in the county. We call on Scott County to implement an identification card accessible to all Scott County residents.
Why is this important?
In Iowa, a county may issue a Community ID – a verifiable, official photo identification card – that would make aspects of life more accessible to all county residents. A Scott County Community ID would make it possible for county residents to participate in the economic and social life of our county. We can make Scott County a more welcoming and inviting place to all people by providing a basic right that many take for granted: a right to an identity.
Many community members are unable to acquire a traditional form of identification. This ID would be especially beneficial to vulnerable populations, such as citizens returning to the community after incarceration, people experiencing homelessness, people with expired forms of identification unable to travel great distances to renew, senior citizens and immigrants.
We all want to feel safe as we go about our daily lives. A Scott County Community ID would benefit law enforcement in keeping the community secure and building trust with community members. People who witness traffic accidents or are victims of crimes are more willing to communicate and cooperate with the police when they have an ID card that they know the police will accept. A community ID could eliminate time-consuming searches through police databases when a police officer is dealing with someone who is unable to obtain a state-issued ID. The community ID would provide law enforcement with proof of a person's identity, which could, under certain circumstances, avoid an arrest and trip to jail. One example is a traffic stop. If the driver does not have a driver's license but has a community ID card, the officer has the option to write a citation instead of taking the person to jail. This would save time and resources.
A Scott County community ID card could be used to:

Open a bank account
Confirm one's identity when using credit cards
Pick up prescriptions at the pharmacy
Provide proof of identity for leases and utilities
Obtain a library card
Return items to the store
Report a crime
Interact with schools, hospitals, civic and community organizations and law enforcement
A Scott County community ID card would not substitute for a driver's license. It cannot be used to prove employment eligibility, vote, board an airplane, purchase alcohol or tobacco or enter establishments with age restrictions. We emphasize that it cannot be used by police or Immigration and Customs Enforcement (ICE) to target individuals.
Other Iowa counties have successfully implemented community ID programs, such as Johnson, Marshall and Story counties. Community members in Polk County are in the process of asking county officials to implement the community ID. Scott County can also join in recognizing that everyone in our community has the right to an identity.
I Vote ID for All
QCI has been working closely with organizations across the state of IL to on the I Vote ID for All campaign, with the purpose of making the Temporary Visitor's Driver's License a Standard Driver's License. We have met with dozens of IL Representatives and Senators to ask for their support on this issue. We would like to thank Representative Barbara Hernandez for introducing this bill and all the House Representatives who supported the passage of this bill. A special Thank You to our very own Representative Gregg Johnson, who signed on in support of this bill and spoke about how it impacts our community. What comes next? This bill will make its way to the IL Senate. Call or email your senator today and ask them to support!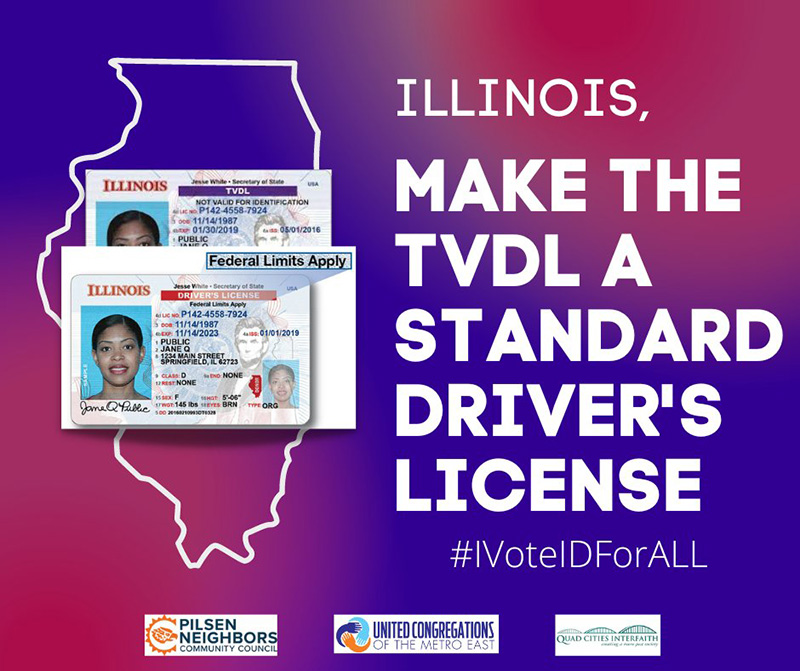 Background on the TVDL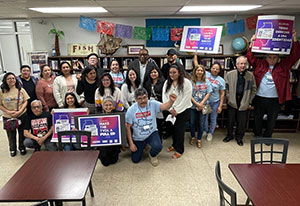 The Temporary Visitor Driver's License came into effect on July 1, 2014. Over the year's this driver's license has allowed non-visa status individuals the opportunity to drive safely on the roads without any legal repercussions. Nonetheless, this temporary driver's license is not a valid form of identification in the State of Illinois, it's only a driver's license but NOT VALID FOR IDENTIFICATION.  HB3882 amends the TVDL legislation so that it becomes a Standard Driver's License available to all residents of IL, regardless of immigration status. Nowadays everything requires a valid form of identification to do a host of things like renting an apartment, cashing a check, picking up prescriptions, or enrolling kids to school, etc. A valid identification increases accessibility to everyday necessary services, access to selected financial institutions and basic healthcare services. If the TVDL becomes a Valid Identification it will allow street vendors to more easily get local health permits and support better economic inclusion and opportunities. Immigrant students will have improved access to in-state tuition at public colleges and universities and more benefits. The state of Illinois needs to recognize that everyone in our community has the right to a valid identification card.
National Civil Rights of Immigrants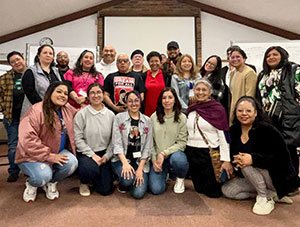 In affiliation with the Gamaliel Network, We are excited to announce that Gamaliel's Civil Rights of Immigrants table will be hosting its strategic retreat in Columbia, Illinois from April 28-30, 2023. This retreat presents a unique opportunity for those who are serious about organizing around immigrant rights and are looking to make a difference in the upcoming 2024 election cycle. As we all know, immigrants are likely to be a central issue in the public debate, and it is important that we are ready to organize our communities around a national strategy and ensure our message resonates throughout the country. The retreat will bring together like-minded individuals, offering an excellent opportunity to build power and exchange ideas.
We have put together a series of workshops and sessions that will cover a range of topics; this includes power analysis, the inner workings of different levels of government, civic engagement, integrated voter engagement for immigrant communities, and local issue workshops. By the end of the retreat, you will have a deeper understanding of how to make your voice heard and be a part of a team that is advocating for the rights of immigrants.
We encourage you to register for the retreat before April 15th, 2023 using the Gamaliel registration link: https://gamaliel.org/training-events/civil-rights-of-immigrants-retreat/.
Besides the opportunity to attend sessions led by powerful presenters, you will also have a chance to meet others who share your passion for Civil Rights of Immigrants.